Gate Globe Valves
The design of gate valves makes them ideal for the free flow of fluid when minimum restriction is desired. When a gate valve is wide open, the gate is completely drawn up into the valve body, allowing for consistent pressure and flow through the valve that is consistent with the attached pipe.
Rising or Non-Rising, Threaded, or Flanged Gate Valves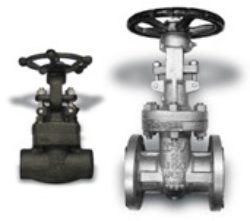 Product Catalogs

DHV Forged Steel Catalog

DHV Cast Steel Catalog
Manufacturer Website
DHV Industries
Gate valves are classified as either a rising or non-rising stem valve. A non-rising stem valve has its stem threaded on the lower end into the gate. Even though the gate travels up and down, the stem remains vertically stationary. In a rising stem gate valve, the stem is attached to the gate, and both the gate and stem rise or lower simultaneously. Gate valves are available in a threaded or flanged gate valve design.
Product Catalogs

DHV Forged Steel Catalog

DHV Cast Steel Catalog
Manufacturer Website
DHV Industries

Request A Quote